Children have unlimited possibilities and
and the many options that have yet to be seen.
We hope that this place will resonate with the future leaders, and give something meaningful to the children's future.
The World's Most Beautiful Convenience Store
Kito District, Naka-cho, Tokushima Prefecture.
In a village of 1,000 inhabitants emerged"The World's Most Beautiful Convenience Store".
A place to foster the dreams of children.
Mirai Convenience Store was conceived to create bonds between people and within the community, and to bring a smile to every face.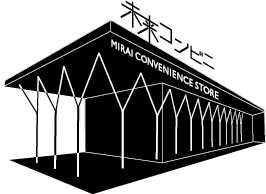 "Mirai Convenience Store", which was born from the concept of
"the world's most beautiful convenience store",
has won 11 prestigious international design awards.
One of the world's three most renowned
design awards RED DOT DESIGN AWARD 2021 Retail Design "BEST OF THE BEST"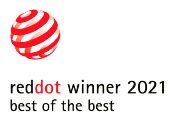 One of Japan's top space design awards KUKAN DESIGN AWARD 2021 "KUKAN OF THE YEAR"
Shop Space"GOLD"

German Design Award 2022

Excellent Architecture "Special Mention"

SKY DESIGN AWARDS 2021

Architecture "GOLD"

DFA Design For Asia Awards 2021

Environmental Design, Architecture "SILVER"

ICONIC AWARDS 2021

Architecture "WINNER"

SDA AWARD 2021

JIA AWARD 2021

Excellent Architecture of the Year
2021 100 selection by the JIA

BAMBOO AWARD 2021

Gold Prize Bamboo Award 2021 - Most views

iF DESIGN AWARD 2022

Retail/Hospitality "WINNER"

3 Concepts of Mirai Convenience Store
"The World'sMost BeautifulConvenience Store"

An architectural beauty in harmony with nature, "The World's Most Beautiful Convenience Store" was born under a starry night sky, amidst lush mountains and clear streams.

"For Children, Our Future Generation"

Dedication to the children who will lead the future of Kito.
We hope to foster the next generation by exposing them to diverse cultures and walks of life, inspiring them to shape the future.

"For the Community'sHappiness"

We support life in Kito.
Our goal is to brighten the face of every resident by helping them enjoy life in this village.

Colleagues from all walks of life work at Mirai Convenience Store.
One is a former barista of an urban cafe, and another came to Kito with an interest in antique farming tools.
Yet another colleague is former school teacher, as well as one who loves making sweets.
Everyone shares a love for Kito and the bond of camaraderie.
Our team will strive to bring even more excitement to Kito and add joy to the lives of every visitor.
Yoshifumi Obata

Erina Oka

Ueta

Rumiko Tani

Hono-chan

Contributing to Japan'sFuture by Developing Kito
Always contemplating what we can do for those who inhabit, visit, and cherish a love for Kito, we will work together for the future of Japan.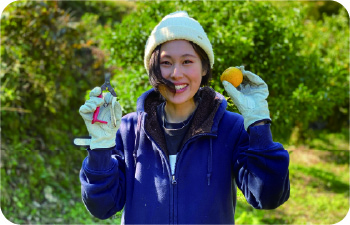 Will you join our exciting and earnest journey to shape the future of Kito?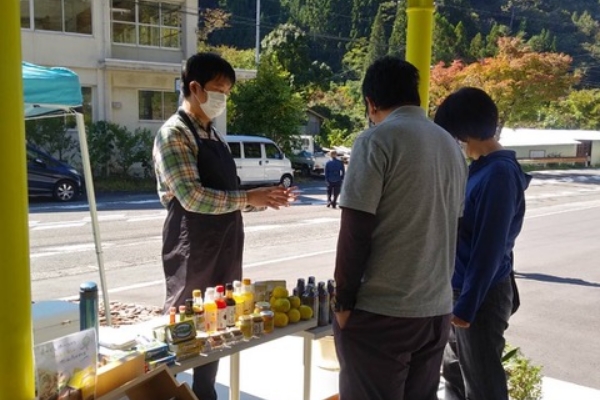 Kito District, Tokushima, the Home of Mirai Convenience Store
Mirai Convenience Store is located in Kito, Naka-cho, Tokushima Prefecture, a mountain village on the border between Tokushima and Kochi prefectures.
Home to 1,000 residents and abundant in nature, it is known as "The Tibet of Shikoku".
We wish to create a space overflowing with nature and joy in all lives that Kito touches, from children and the elderly to visiting travelers.
With the nearest supermarket an hour's drive away, Mirai Convenience Store has become a vital lifeline for Kito that shapes the village's future.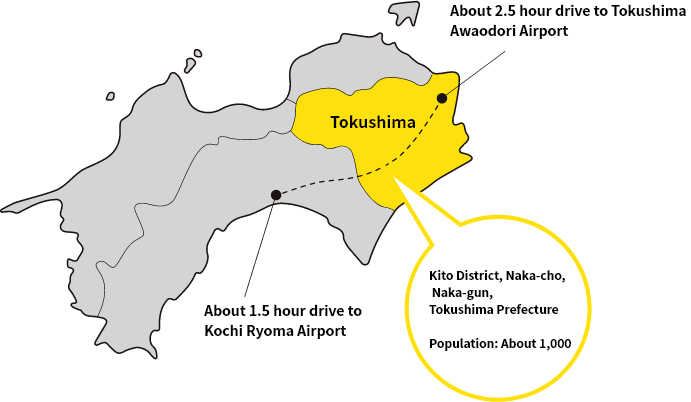 By founding an establishment that will lead the future, we aim to become a new foundation for our hometown to revitalize industry, promote tourism and resettlement, and launch creative businesses.
Mirai Convenience Store, along with "KITO DESIGN HOLDINGS", is a member of KITO DESIGN PROJECT.